At Filtrexx, we're always finding new ways to be Green in Every Way™ – and helping to remove stormwater pollutants from our country's waterways is just one of them
Stormwater runoff from industrial sites is a major cause of water pollution, but our stormwater filtration products help to prevent pollutants from your site from entering the ecosystem. This is essential – not only for protecting the environment but also for ensuring compliance with a growing range of regulations and requirements.
Enter EnviroSoxx
EnviroSoxx is a stormwater treatment device and a unique product within the industry. Thanks to its specialized blend of compost and natural additives to filter stormwater runoff, it removes a wide range of pollutants that includes hydrocarbons, nutrients, heavy metals, bacteria, and sediment. EnviroSoxx can be used in various applications across your site, from perimeter protection and check dams to pollutant wraps, and inlet protection.
With the constant evolution of stormwater regulations, EnviroSoxx is an essential ally when it comes to treating stormwater on your site. We've been continuously improving our EnviroSoxx offering for over 10 years, but here at Filtrexx, we believe that when it comes to protecting the environment, we can always do better!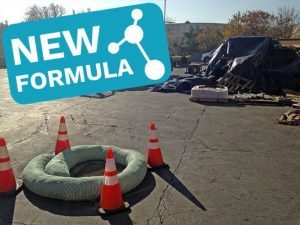 Introducing our new and improved formula
Following a year of intensive research led by Dr. Britt Faucette, Filtrexx's Director of Research and Technical Services, Filtrexx is happy to announce that we've drastically improved the formulation of our EnviroSoxx Industrial Blend compost filter sock – making it a better choice than ever.
1)      Target more pollutants
The new blend has been designed to tackle even more harmful particles:
Now filters 10 heavy metals, including aluminum, arsenic, iron, and selenium
Removes ammonium-nitrogen (NH4-N) AND total nitrogen (TN)
Helps neutralize the pH of stormwater runoff
 EnviroSoxx is perfect for use on sites that suffer from heavy-metal pollution – such as scrap metal yards, industrial fabrication sites, and automotive businesses. It also now meets an increased number of the compliance standards necessary to secure site permits.
 2)      Increase functional longevity
But that's not all: in our research, we tested EnviroSoxx across multiple storm events. The results show that the new Industrial Blend retains its effectiveness for an average of up to 10 storm events without any drop-off in performance – so you can rely on our cost-effective, environmentally friendly solution time after time!
 3)      Double your filtration effectiveness
Our study also measured the impact of combining multiple EnviroSoxx filter socks. The results show that by placing three socks in series, you can on average double your pollutant removal rate compared to using one filter sock alone.
Want to know more?
Are you ready to better protect the environment and improve your stormwater compliance? With its enhanced filtration capabilities, Filtrexx's EnviroSoxx Industrial Blend is a must for manufacturing, composting, waste management, and mining sites, alongside many others. Plus, we have a wide range of other products tailored to meet the specific requirements of your industrial operations, so don't hesitate to contact us or schedule a site visit to discuss the best product for your needs.