Divert stormwater runoff from areas at risk, naturally.
Runoff diversion BMPs are used to redirect stormwater runoff from areas at risk of flooding or eroding towards stabilized areas, storm inlets, conveyance systems, containment areas, or stormwater treatment systems. Filtrexx® DiversionSoxx™ is a three dimensional tubular sock designed to act as a sediment control and filtration device, generally used up slope of disturbed areas. Especially helpful in areas where an excavated fresh water diversion ditch is not possible, DiversionSoxx helps divert excess surface water from one area for use or safe disposal in other designated areas.
Runoff diversion BMPs can be installed above steep slopes to limit surface runoff onto the slope, across long slopes to reduce slope length to prevent erosion, below steep grades where flooding, seepage, or sediment depositions may occur and around areas that are subject to damage from runoff.
Advantages
01
Can be adjusted/moved on jobsite
02
Easier than excavating a fresh waster diversion ditch to install and de-install
03
Ability to be vegetated and left in place as a permanent stormwater device
04
More intimate surface contact
06
Can be installed on frozen ground
07
Installs on top of rolled erosion control products
08
Easily increase design height by stacking
Products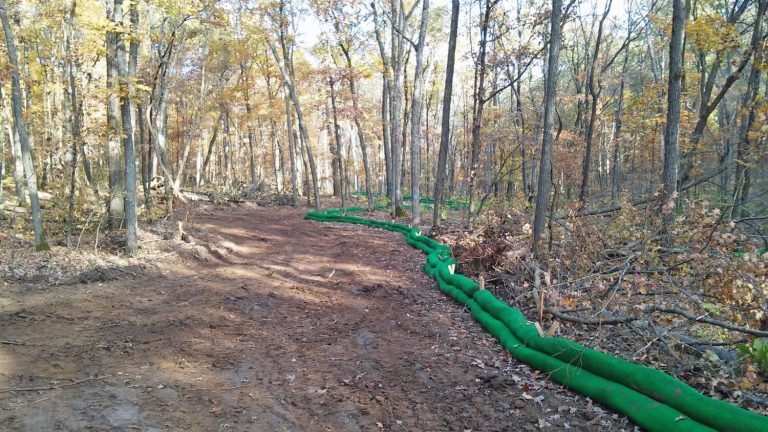 DiversionSoxx
Divert stormwater runoff, naturally. DiversionSoxx, a conveyance BMP, replaces excavated freshwater diversion ditches. Fresh water flows along (not through) DiversionSoxx & around the disturbed area.
Applications
Up-slope of disturbed areas
Use prior to erosion control practice installation
Use prior to vegetation establishment
Use prior to final soil stabilization
Habitat or ecological restoration
DESIGN SPECIFICATIONS & CADs
We provide FREE access to our Design Manual. Our database includes product specifications, installation guidelines and recommendations, as well as CADs for over 25 applications. Engineers, designers and installers rely on our Design Manual to evaluate our products and find best suitable solutions.