As the year comes to an end, we'd like to take a look back at an eventful 2018 with our favorite moments from each month:
January: We kicked off the year and tradeshow season at COMPOST2018, the annual conference for the US Composting Council.
February: Dr. Britt Faucette & John Paoluccio spoke at the IECA Annual Conference on the topic of Compost-Based Biofiltration Practices in Urban Runoff and MS4 Stormwater Permit Compliance Applications.Dr. Craig Kolodge also spoke, on the topic of Three Keys to Successful Living Shorelines – Containment, Reinforcement and Organic Media.
March: With the help of EcoPractices, we calculated our 2017 Environmental Impact and announced the statistics on how our Sustainable Management Practices positively impacted the environment.
April: The Spring issue of WEF Worldwater Stormwater Management magazine featured an article by John Paoluccio titled Catch Basin Inserts: Last line of defense in stormwater treatment (page 31), explaining the operation, benefits, and applications of these devices.
May: Filtrexx sponsored the annual Composting Council Research & Education Foundation (CCREF) Young Investigator Scholarship for young professionals in the field of compost research.
June: A unique GreenLoxx wall was installed in Lakewood, OH. The grown out after photo from a few months later shows how well this natural, vegetated feature works with traditional hardscapes.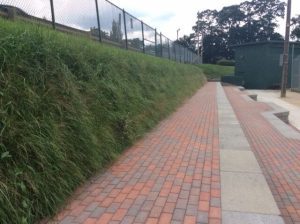 July: The Filtrexx Blog officially launched – we've enjoyed sharing industry news and knowledge from our partners and experts each week!
August: Dr. Britt Faucette spoke at StormCon, The Surface Water Quality Conference on the topic of Ecosystem Service Benefits of Compost-Based Sustainable Management Practices.
September: Filtrexx joined the 7th annual Storm Water Awareness Week by participating in five workshops across the state of California.
October: We took a look at what it really means for sediment control products to meet state and federal requirements on the blog.
November: Filtrexx welcomed our new General Manager, Chris Freitag, and wished a great retirement to Rob Carrothers.
December: Dr. Craig Kolodge spoke at the National Summit on Coastal and Estuarine Restoration and Management on the topic of Using Organics for Coastal Resiliency: Upland to Coastline.
That's a wrap on 2018 – from all of us at Filtrexx we look forward to working with existing and new customers and partners in 2019, and wish you all a Happy New Year!
As the Associate Marketing Manager for Filtrexx, Kristin specializes in print & digital marketing, graphic design, and website management. She also serves as the moderator for the monthly Filtrexx Webinar Series. Kristin attended the University of Toledo where she obtained a Bachelor of Arts in both communication and environmental studies. After completing multiple internships with Filtrexx, she officially joined the Filtrexx team in 2010. In her free time, she enjoys exploring local parks with her husband, spoiling their two golden retrievers, and cheering on the Cleveland Indians.