Our partners and customers know Filtrexx stands for sustainability, trust, and savings. Now, we've been granted a new trademark to help us tell our story and show the world that we're Green in Every Way!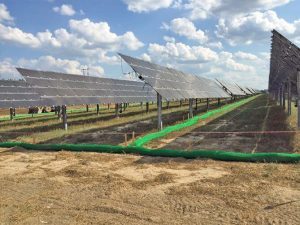 Beating the odds
The signature shade of green we use in Filtrexx products and branding has been associated with us for more than 10 years. It's famously difficult for brands to win a trademark on a color, but in 2021, Filtrexx joined the likes of Tiffany (blue) and Post-It (yellow) in successfully being awarded this important protection.
"This trademark is a powerful tool for our company to distinguish our products from those of our competitors," confirms Kip Vangsgard, Filtrexx Director of Product Management and Marketing. "It means our customers can be confident of a high-quality Filtrexx solution when they see our green at a distributor or installed on site."
Green is more than a color
But that's not all: the IP team has also applied for a second trademark, for the phrase 'Green in Every Way' – designed to tie together the key values that underlie our solutions.
"Green is much more than just a color," Kip says. "It represents us as a sustainable company, a trusted partner, and a provider of cost-effective solutions. That's what Green in Every Way is all about."
Sustainability
First, the idea of being 'green' has long been linked to the idea of environmental sustainability, and Filtrexx aims high when it comes to sustainable product design and sourcing. To filter and clean stormwater, we use an engineered blend of composted organic materials, diverting them away from landfill and reducing greenhouse gas emissions. Plus, we're always working on new innovations to incorporate natural, biodegradable materials like cotton and wood fibers into Filtrexx products.
Trust
But green also represents trust: a green light from a traffic signal means you can move ahead with confidence. We've been a reliable partner in environmental protection for more than 20 years. With certified, third-party tested products, Filtrexx is trusted by regulators, government agencies, and our many happy customers!
Savings
Finally, green means savings, particularly in the USA, where money is strongly associated with this color. Filtrexx products save you more 'green' because they're designed for optimal lifetime performance, with lower labor costs for installation, maintenance, and removal. It's a total-cost-of-ownership approach that means the savings quickly add up.
Learn more
Check out our new video or head to our dedicated Green in Every Way webpage for more information! If you're interested in our sustainable solutions, or simply have a question, contact us – we'll be happy to discuss ways in which we can support you and your green ambitions.