Warm fires by the hearth, sipping lattes and wearing fuzzy holiday socks are synonymous with winter. As we enjoy the pitter patter of raindrops from the comfort of our office or home let us remember that although the smell of fresh rain is cleansing for the soul, it does not necessarily have such a romantic output on the earth.
Stormwater runoff has a unique skill of scouring and picking up any debris, trash and oil in its path that end up in our waterways it does not discriminate. Stormwater runoff is one of the leading causes of water pollution.
One of the best ways to prevent pollutants from entering our local waterways is to stop pollution at the source and remove them from streets before the elements carry them into the storm drainage system. Public education, street sweeping, catch basin filters and due diligence in street and storm drain inspections is a good start.
Educating residents and property owners on the importance of picking up yard waste and debris from property is a good start; creating neighborhood educational groups to report any trash or potential contaminants is essential for long term results. Street sweeping is particularly important during heavy leaf drop, if not done periodically, can result in debris blocking stormwater facilities and cause localized flooding. Local agencies can watch for seasonal trends and schedule street sweeping accordingly. Other unique practices that are starting to be adopted by municipalities are catch basin filters, these easily are customized into existing catch basins and help minimize pollutants entering the storm drain system.
Inspecting storm drains after a rain storm or significant seasonal event (leaf drop, snow, public event, etc.) is important in order to catch any issues. The number one sign of storm drain issues is standing water. There are different scenarios that can cause standing water. As you are doing your inspections, what do you need to pay attention to? Below are a few pointers:
Any standing water visible? If so, this may be a good indicator that the storm drain is plugged, overloaded or has sediment buildup.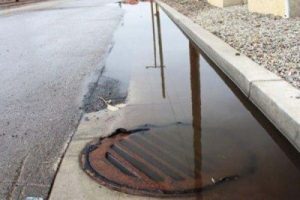 Any sediment around drainage area? Street sweeping should be scheduled. If the area has a sediment plume, investigate any activities upstream such as any construction projects, broken curb/gutter or scarred soil or uncovered project spoils.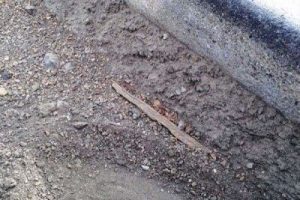 Any leaf buildup around area? Heavy tree canopies around neighborhoods have a higher likelihood of leaf buildup around streets and storm drains. Coordinating street sweeping in tune with seasonal leaf drop is important. Often times you get wet leaves that will completely blind a storm drain that will cause increased loading to downstream storm drains. If street sweeping is not routinely done, leaves could breakdown and cause storm drain buildup. Over time this creates more decomposed organic matter and odor that can provide weeds and nuisance plants a perfect growing area that will then create more issues.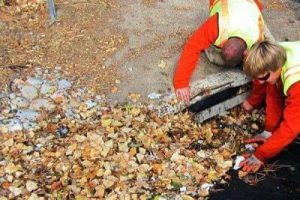 Debris or trash around area? Trash such as soda cans and non-biodegradable materials not only create a nuisance, but they hold water creating a mosquito and vector issue. Street sweeping should be scheduled.
Any odors coming from the storm drain? There may be stagnant water and trash below eye level.
Any oily sheen visible along roadway drainage? Oily sheens can be prevalent during the initial rain season, as automotive fluids, pesticides, fertilizers, and detergents that are present on lawns, driveways and roadways are swept by the rain into storm drains and can poison aquatic life. Schedule street sweeping immediately.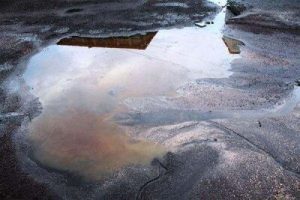 Any nearby activities upstream that can impact stormwater quality? Unbagged lawn and garden clippings, disturbed stockpiles, construction projects, new lawns, irrigation runoff, farms and heavily populated public events such as parades or street carnivals can also cause havoc downstream if not properly cleaned up.
Trash capture devices treat stormwater runoff at the street/inlet level, capturing debris such as leaves, trash and sediment before entering the storm system. StormExx Clean trash capture devices are engineered and patented for the treatment of stormwater runoff. The catch basin inserts meet and/or exceed stormwater best management practices (BMPs) and best available technology. These units are certified and included in the Capture System List of Trash Treatment Control Devices by the California State Water Resources Control Board. A combination of proper street cleaning, resident awareness and maintenance of StormExx systems will ensure cleaner storm drainage systems and a reduction of pollutants in nearby water bodies.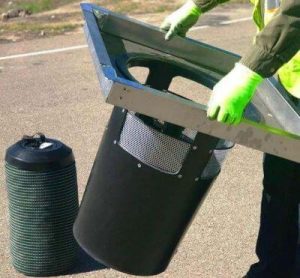 Evangelina Paoluccio P.E., QSD/P is the Engineering Manager at Inventive Resources, Inc.She has over fourteen years of design experience in drinking water, wastewater and storm water systems and is a registered Civil Engineer in California.