In this week's blog, we hear from an international partner using Filtrexx products in a unique way – constructing habitats for bees to help increase populations!
Hi there! I'm Tim Joye a Belgian based cultural entrepreneur. After a collaboration with artist and beekeeper Louis De Cordier in the expo 'Manmade' (Belgium), I've decided to start a multidisciplinary social and creative project 'Beesphere' in collaboration with artists, citizens, beekeepers, ecologists and scientists.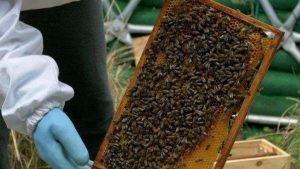 WHY?
Bees play a significant role in our food system and economy. 70 out of 100 human crops are pollinated by wild and domesticated bees. Bees suffer from human activities such as pesticides, loss of habitat, domestication, etc. If the bees go extinct, the world would struggle to sustain the 7 billion human population due to lack of fruits and vegetables.
FILL THE SOXX AND SAVE THE BEES!
The project Beesphere wants to contribute in saving the bees by developing temporary and bee friendly 'beetecture' for the city (for vacant and undeveloped lots that await a building permit). We want to construct new habitats for domesticated and wild bees combined with educational programs for the local residents who also volunteer in the construction of the artwork.
Our first experimental 'beetecture', the 'Beepod', is located on an old soccer field in Ghent, which awaits project development in Belgium. We've built a custom Geodesic Dome made out of galvanized tubing with an outer shell that consists of Filtrexx SiltSoxx filled with an extensive substrate (used on green roofs), a drip watering system and soil conditioning technology.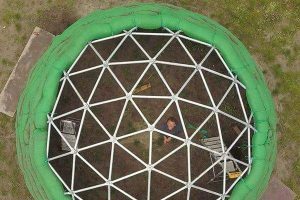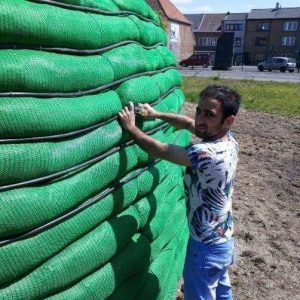 This spring we've planted the Filtrexx Soxx with 1,500 bee-friendly sedums or succulents, with the help of young volunteers and refugees. The sedums grow very well in this setup and will blossom for the first time from May through September 2020. We hope the 60,000 bees and inhabitants of the Beepod will love them!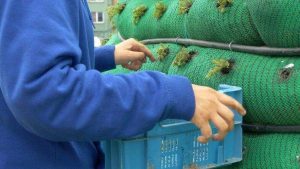 But we aren't there yet! The customized frame needs to be built more budget friendly and more economically. We need to research maintenance friendly and year-round bee friendly vegetation for the Soxx. We also will need to find a more customized Filtrexx media, work on decreasing the weight of the sock as well as building a more lightweight frame for the Beepod. Filtrexx offers several types of mesh and media that we may be able to better fine-tune this project moving forward.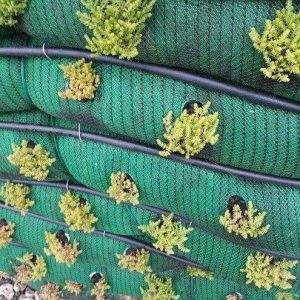 I hope we can pursue our dreams and build a national or international network with Beetecture, Beewalls and other pollinator design and architecture for cities together with architects, designers, artists, bee specialists, companies such as Filtrexx and other partners.
If you want to contribute, or if you want to share thoughts and ideas, please let us know: [email protected]. Hope to hear from you soon!
Tim Joye has 15 years of experience in environmental communication and has a background in audiovisual arts and sculpture. In 2008, he started to organize multidisciplinary exhibitions that emphasized on environmental themes. From 2012 on, the focus moved to visual and audiovisual arts and artistic research on neurology, ecology and anthropology. He's coined the idea of an artistic expedition to challenge artists to work outside of their comfort zone. This challenge-based approach stimulates to take risks and walk the path of innovation. He likes to work in unconventional settings, such as factories, bunkers, old warehouses, smalls spaces or museums not compatible with the white walls fetish of the classical art world.